Larissa BT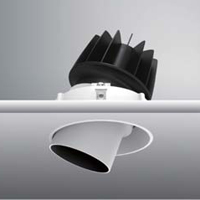 Larissa is designed for any indoor spaces with a modern simple style.
The soft and un-dazzling light creates a cozy and stress-free atmosphere.
It is suitable for leisure spaces especially for hotels, villas, etc.
With removable light engine, the light engine and accessories can be
assembled / disassembled by twisting the light engine, tool-free.
Larissa is also designed with IP rated. UGR <19.
Specifications