Cronos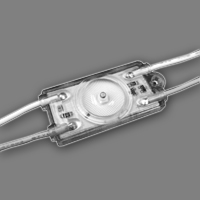 Cronos is DOT LED which is made in high quality 3030/2835 LED chip.
Die-casted shell molding casing which has good appearance and good heat dissipation effect.
The product has high brightness and low power consumption, with long operating life.
20 pieces of LED modules per string in a series-parallel mixed design.
Each module can be cut separately if desired.
Suitable for Advertising signages and lighting box.
Specifications
Technical Specs.
| Code No. | Watt | Lamp Desc. | Beam Angle | Color Temperature | Aiming |
| --- | --- | --- | --- | --- | --- |
| 9520.01.65.175.25 | 1.2W | 1.2W LED 3030/2835 | 175 | 2500K | Fixed |