Mateo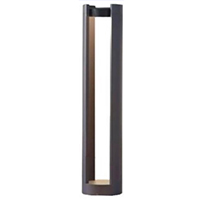 Mateo is an outdoor bollard designed for various outdoor lighting applications. It is constructed with a die-cast aluminum housing and features an extruded aluminum body, providing durability and resistance to harsh weather conditions.
The bollard is available in two finish options: Black and Graphite. These finishes not only enhance the aesthetics of the bollard but also contribute to its ability to withstand outdoor elements.
Mateo is designed to operate within a specific temperature range. It can function in temperatures as low as -20ºC (-4ºF) and as high as +50ºC (122ºF). This temperature range ensures that the bollard remains operational in a wide range of climatic conditions, allowing it to be used in various geographical locations.
Specifications
Technical Specs.
| Code No. | Watt | Lamp Desc. | Beam Angle | Color Temperature | Aiming |
| --- | --- | --- | --- | --- | --- |
| 9820.12.65.30 | 12W | LED | 120º | 3000K | Adjustable |