C732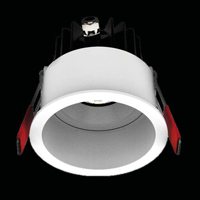 Recessed Round tilting downlight from the DUVA family carrera-mini-Pro
Body and frame constructed from durable die-cast aluminum.
High efficiency reflector, without any shadow, accurate angle, high lumen.
PC clear diffuser and optical lens.
This light fixture features a CREE COB LED module that maintains uniform intensity producing up to 80 lumen/watt with typical CRI of 80.
Specifications
Technical Specs.
| Code No. | Watt | Lamp Desc. | Beam Angle | Color Temperature | Aiming |
| --- | --- | --- | --- | --- | --- |
| C732.06.44 | 6W | CREE COB LED | 24º, 36º, 60º | 3000K | Adjustable |
| C732.10.44 | 10W | CREE COB LED | 24º, 36º, 60º | 3000K | Adjustable |
| C732.15.44 | 15W | CREE COB LED | 24º, 36º, 60º | 3000K | Adjustable |
| C732.06.65 | 6W | CREE COB LED | 24º, 36º, 60º | 3000K | Adjustable |
| C732.10.65 | 10W | CREE COB LED | 24º, 36º, 60º | 3000K | Adjustable |
| C732.15.65 | 15W | CREE COB LED | 24º, 36º, 60º | 3000K | Adjustable |